...
Media Arts
...
Gallery
...
coming soon
...
Installations
...
Videography
...
Filmography
...
Exhibitions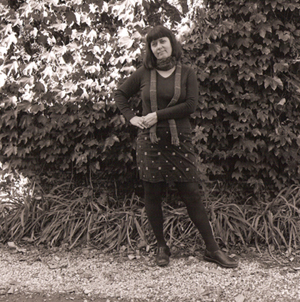 Photo by Nancy McEntee
Cynthia Penter is a media artist from Cleveland, Ohio. She has three children, two cats, one husband, and spends half of her time figuring out the code. She is currently Adjunct Faculty in the Art Department of Hiram College, teaching Photography, Filmmaking, and Digital Arts. She has taught for 20+ years at various colleges and institutions in Northeast Ohio.

She received her B.F.A in Studio Art: Film (with a minor in Photography), as well as her M.F.A. in Cinematography from Kent State University, where she studied with renowned experimental filmmaker, Richard Myers. After Myers retirement, she ran the Film Program at K.S.U. for 5.5 years.

In 1981 Cynthia won first prize for the film Dream Dance at the Cleveland International Film Festival in the Ohio Filmmakers Competition. Her work has shown in numerous other festivals since. She has received several Individual Artist Fellowships from the Ohio Arts Council, a Regional American Film Institute Fellowship, and has enjoyed many artist residencies.

As a side line and hobby, Cynthia makes natural stone and crystal jewelry. She works frequently as an event and wedding photographer and videographer. Her interests range from dance to documentary to social activism. She works in film, video, photographic, and digital formats, making personal, experimental work and installation video. She continues to organize shows of these media to showcase the talents of artists in her community.
---VIDDHARTHA Artist Information - see below:
Just talkin'...ideas, rants, and other curiosities